Hi and welcome back to our Sodus Vacation Rentals Finger Lakes home blog! You guessed it – we're continuing with our never-ending Sodus restaurant series. This week we're highlighting a relatively new restaurant in the area: Marlin's.

Located at Sodus Point Vacation Rentals very near to Captain Jack's, Bay Street and the like, Marlin's Restaurant offers an awesome view of Lake Ontario from seating on their two-level outside deck. It's the perfect location for a nice lunch or dinner on a summer day.
An especially unique and awesome part about Marlin's: it's like eating at two restaurants in one. Not only is the quality of their cuisine, great, but Marlin's offers two menus - so you don't have to agonize over indecision when choosing a restaurant. Marlin's has it all.
Their outside deck menu has items that typically range from $10-15, like wraps, burgers, salads and other simple staples. Great for a modest lunch or dinner with a perfect view. Inside, meals are a bit fancier and more expensive, with entrées generally ranging from $15-35. Some examples of these include broiled scallops, pasta primavera, surf and turf, and a variety of higher-end chicken, beef and steak options. We've included the menus below for a more comprehensive look at Marlin's options.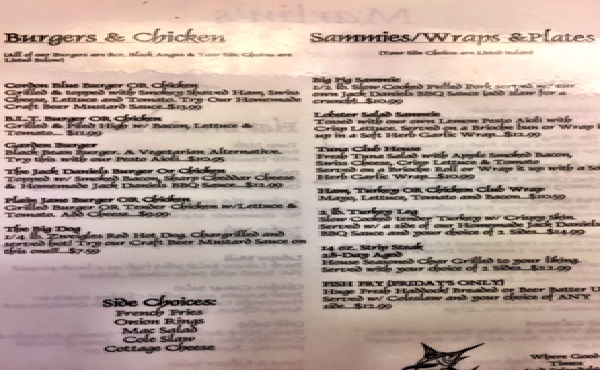 There are bars located both downstairs and upstairs, and visiting Marlin's on a weekend is sure to be a fun time – so have a drink or two. The restaurant often hosts live bands on their second floor outside deck, and this deck is perfect for dancing and drinks with friends. It seems Marlin's is not only the hot new restaurant in Sodus – but a great place for nightlife as well!
Marlin's just about has it all, and is definitely worth a meal during your stay in Sodus. Whether you go for the drinking and dancing, a casual meal or all-out dinner, or just for the amazing view of Lake Ontario from the outside decks – you're guaranteed a great time and even better food.  Marlins is located at 8527 Greig Street, Sodus Point NY 14555 Phone for reservations is 315-483-4444.
Contact Us:
Email- jan@vacationrentalsfingerlakes.com
Phone Number-(585)-802-3494